ABOUT BONDI PROTEIN CO.
We believe being fit and healthy isn't a fad or a trend, it's a lifestyle. It's why we've taken our name from one of Australia's most iconic beaches. That sweeping crescent of white-gold sand set against rolling blue-green waves is everything we love about an active outdoor lifestyle and glowing good health.
We know that 'healthy' is an outfit that looks different on everyone. Maybe for you it's being able to fit back into a favourite pair of jeans; finding the energy to get back outside and walk in the sunshine; or getting back on your bike again. For others it's about pushing yourself to the limit and working towards the best body you've ever had!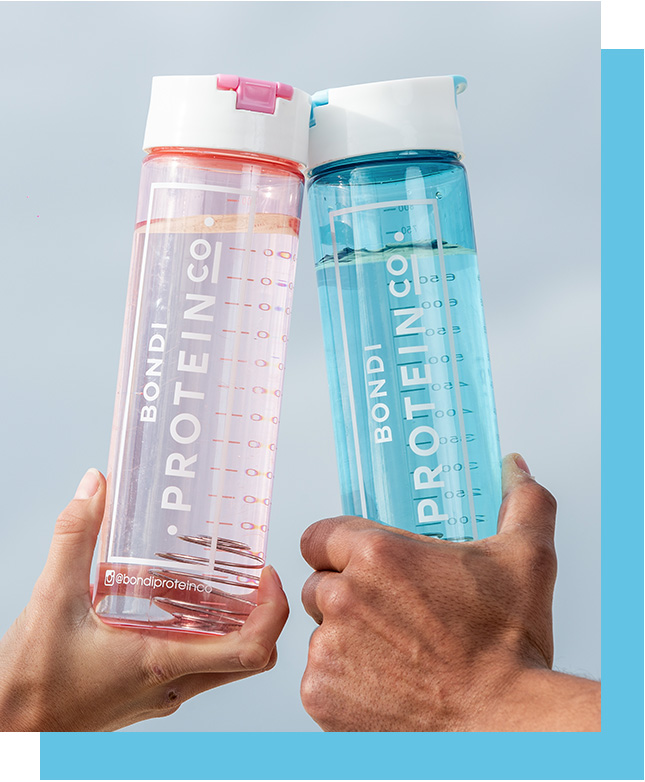 Whatever your end goal, protein is crucial for maintaining a healthy metabolism, stimulating fat loss and maintaining lean muscle mass. Our products are changing the game when it comes to slimming powders. An easy and convenient source of complete high-quality protein that will take you from the beach to the gym and everywhere in-between and all packaged up in retro jars so cool you'll use them over and over again.
In a range of delicious flavours, you can shake them up on their own; healthify your smoothies and raw treats; or add them to whole range of delicious and nutritious meals (see our e-book for recipes!) Proudly Australian made and owned and designed to support your weight loss program. Whatever your choices, we've got a product to suit you – be it our women's slimming range, slim it blend for men, vegan powders or our new collagen blend with probiotics to nourish your body from inside out.
Finally, the answer to your Bondi-beach-body-all-year-around prayers! Get ready for Bondi Protein Co to sweep you off your sandy feet. Bondi Protein Co products are 100 per cent Australian made and owned and available exclusively through Chemist Warehouse and My Chemist stores and online.
Bondi Protein Co powders, the slimming protein range particularly designed with women in mind, are sold exclusively through Chemist Warehouse and My Chemist stores. Follow them at Instagram @wellnessaustralia and Facebook @TheHouseofWellness and keep up to date with all the latest product, beauty, sporting and wellness information.