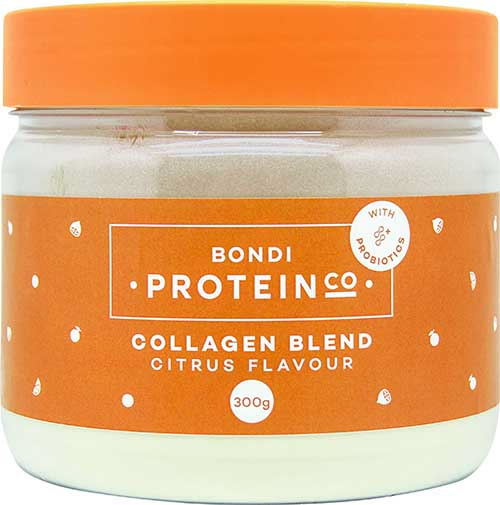 Collagen Blend Citrus
Product information
• Maintaining collagen structure is one of the keys to beauty as we get older, and fine lines, wrinkles and the loss of elasticity begin to affect our skin's appearance.
• Collagen not only increases skin hydration and helps to reduce wrinkles but also keeps our joints strong and flexible as well as supporting strong bones.
• While collagen is produced naturally in our body every day, over time that production slows down.
• What better way to tap into this fountain of youth than mixing up a serve of BPC's delicious citrus or berry flavoured collagen blend. As with all of our powders, you can add to water or a shake or mix into baked goods.
• Our specially formulated blend is packed with collagen and vitamin C to support firm, healthy skin – nourishing your body from the inside out.
• It also contains probiotics and inulin to restore and maintain the balance of good and natural bacteria in the gut, supporting general health and wellbeing.
BPS's Collagen Blend has no artificial flavouring and preservatives, is dairy and gluten free and each flavour is less than 70 calories per serve and boasts 14.9 grams of protein.
Directions
Add 20g powder to 250mL cold water 1 – 2 times a day, shake or stir well until dissolved.
Keep in a cool dry place.
Warnings
Do not exceed 1 serve per day
Ingredients
Hydrolysed collagen powder (82%), Inulin, Maltodextrin, Probiotics
(Lactobacillus acidophilus, Bifidobacterium lactis), Food acid (330), Natural flavour, Ascorbic acid (Vitamin C).
May contain traces of milk.
Formulated supplementary sports food
Not suitable for children under 15 years or pregnant women
Should only be used under medical or dietetic supervision
Not suitable as the sole source of nutrition
Consume in conjunction with an appropriate exercise program and healthy diet
MADE IN AUSTRALIA FROM LOCAL AND IMPORTED INGREDIENTS
FOR RFSIX 44 Raglan Street Preston Vic 3072 Australia